Current Projects
---
Global Look Villas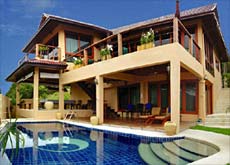 Global Look villas are specially designed to be your dreams come true of you future home. Ideally located in one of the most beautiful areas of Koh Samui, on Chaweng magnificent hills overlooking the ocean, having a spectacular panoramic view of Chaweng Bay and Chaweng Lake and endless mountians covered with coconut trees.
The villas are within 5 minutes from Chaweng Beach Road, just steps from its finest beaches, shopping, dining and entertainment areas.
Only 10 minutes from the airport and from the golf course, 5 minutes from the largest shopping centers on the island, 15 minutes from Lamai beaches, and have all needed community services such as schools, hospitals, post offices, banks and more, all 15 minutes away.
---
Chaweng Point Villas
Chaweng Point is a joint venture between two of the most prestigious companies on Samui - Thai-owned "Project Pacific Ltd", and Western-owned "Global Look Ltd". Both are well-respected and long-established on the island, and together they have designed the most luxurious and imaginative villa project that are sure to make your dreams come true. The people behind Chaweng Point share a common vision of Samui's future through healthy living and the protection of the environment. But, most of all, they feel and care for the island and its people.
Web site: www.chawengpoint.com